Schaakvereniging Bommelerwaard heeft ook een jeugd afdeling. Jongeren in de leeftijd van 8 tot 18 jaar komen op woensdagavond tussen 19.00 en 20.15 uur bij elkaar. We zijn dan te gast in de Grote Aak.
Het adres is: Van Oldenbarneveltstraat 2, 5301 GX Zaltbommel.
Wil je ook leren schaken? Kom gerust een keer vrijblijvend langs. Dat kan iedere woensdagavond, maar niet tijdens de schoolvakanties. Of neem contact op met één van de jeugdschaakleiders!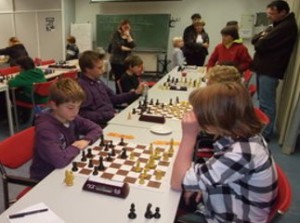 Stappenplan
De schaaklessen bestaan uit twee gedeelten. In het eerste half uur werken de deelnemers onder begeleiding in hun werkboek. Daarbij wordt gebruik gemaakt van het stappenplan van Brunia en Van Wijgerden. De deelnemers worden ingedeeld in verschillende 'stappen' en per stap begeleid.
Na het eerste half uur worden in competitie-verband twee schaakpartijen gespeeld tegen eenzelfde tegenstander. Iedere week wordt een nieuwe indeling gemaakt zodat de spelers geregeld tegen andere, maar wel gelijkwaardige tegenstanders spelen.
De begeleiding is in handen van vier enthousiaste en deskundige vrijwilligers. Zij kijken het werkboek na, bieden ondersteuning bij het maken of verbeteren van de opgaven en zien toe op een sportief verloop van het schaken.
Examens
Aan het eind van het seizoen bestaat de mogelijkheid om na het afsluiten van een werkboek (een stap) examen te doen. Ter voorbereiding op dit examen worden in de lessen voorafgaand aan het examen twee of drie proefexamens gemaakt. Het slagingspercentage van de ZZC jeugdafdeling is over de laatste vijf jaar 100%.
Contributie
De contributie bedraagt € 40,00 per jaar.
Jeugdschaakleiders
Kees van den Nieuwenhof:  kees.vd.nieuwenhof @ lweo . nl
Chris Puyker:  puykerca @ planet . nl
Michel Jacobs micheljacobs @ upcmail . nl
Marcel Pulles marcel.pulles @ gmail . com